This past month I learned a hard lesson. DON'T EVER FORGET YOUR CAMERA!
My friend, who recently had a baby, threw a wonderful baby shower. Of course, I insisted on bringing the cake! I stayed up all night making a gorgeous shower cake, complete with baby-pink-zebera stripes inside! I was thrilled with the final product and brought it to my friend's house, set it up and went for my camera.... not there.
I checked in my car, not there either....
I looked again in my supply bag.... not there.
Realizing I had made the most horrid mistake of forgetting my camera at a baby shower (where I still had not taken a photo of the cake), I began to ask around for a camera. Surely someone would have brought one. NOPE! The proud momma didn't... the proud papa didn't, and neither did the new grandma. WHAT IS GOING ON?!
In a panic, I began to wonder what to do. My only option was to find a camera. One of my friend's friends (who traveled from Winnipeg) offered hers, and I proceeded to take many lovely photos of the various parts of the cake, making sure to check balance and colour... her camera was awesome! Long story short, she never sent me the pictures.
In a scramble, my friend and I were able to come up with a few photos. I got lucky! Let that be a lesson to me! Don't forget your camera!!!!
So the cake:
Vanilla Fluff cake with pink-zebra patterned insides and pink vanilla buttercream.
Though it is not the best photo, the barrel for the baby bath was awesome! I individually cut each 'panel' of the barrel and pock-marked the fondant , then brushed on the wood grain. I added a strip of black fondant, then added in the 'screws'. This photo, of course, does not do it justice!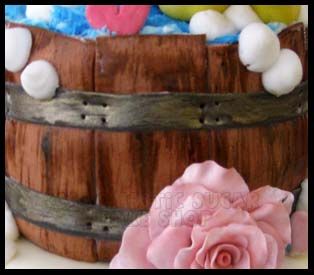 And of course, the baby in the bath is playing with her duckies. The water was awesome! stiff buttercream to make it look like moving bath water, and buttercream bubbles!
I now know that I need to be more cautious in the future! I am more upset that I got no good photos of baby Bea, who slept on my lap the entire shower!