Okay, I am well aware that Halloween is officially over, but I thought I'd give it one last post.
Last year I made
Bat Cookies on a Stick
, so this year, I decided to make something different:
Enter The Shadow Cookie!
You see, I live in a sad apartment in the middle of nowhere. The thing about Halloween is that the only children we see are those who live in the apartment; generally they come by to show their costumes before they go to the busier streets. Anyway, long story short, I don't buy candy. Instead, I make and give out cookies. I usually write my address on the bag anyway, but
people know who I am here. :)
Thanks
Arty McGoo
for the great inspiration!
These cookies are really easy! I simply used food a white flood for the back, then dry-brushed on some food colouring for the background colour. Finally, I used diluted black colour to paint on the front picture.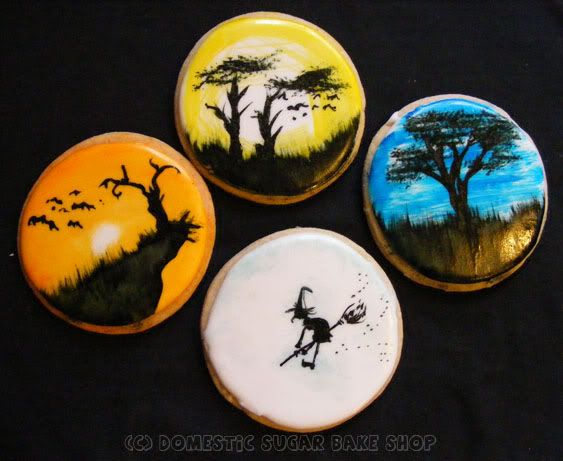 Honestly, I like the witchy-moons the best.

Hubbie found the scary yellow the best.
When I look at these, I always think of
"Scary Stories to tell in the Dark"
, You know, those spooky books with the great art that everyone read when they were young?
Okay, Halloween is over. Now it's time to get into the Christmas spirit. Hubbie has a rule; no Christmas in the house until November is over... luckily, a friend of mine brought some Christmas in when she bought me some beautiful snowflakes for my window! LOVELY!
Until next time!