Hmm. What is this book? Why, it is about my life! It has my interests and dreams! IT'S A CAKE!
That is more or less how I viewed the giving of this latest cake. One of my coworkers recently celebrated her 60th birthday.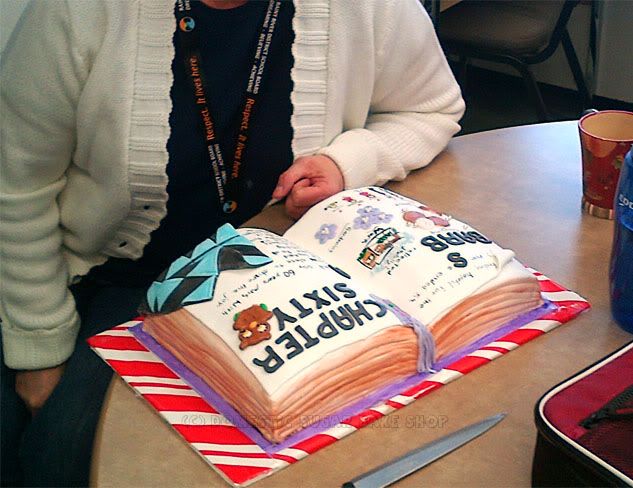 I love when I get asked to do an 'over-the-hill' cake. I mean, what do people normally ask for when they want to celebrate an 'older' birthday... tombstones, graves, hills with people passed out on them. I mean, what tells a person that you care about them than showing them they will soon be dead? Right?
Seriously, Google OVER THE HILL CAKES and you are going to get a bunch of winner ideas. Not that they cannot be well exectuted or quite beautiful; it's just the idea of reminding people of what is coming. That's why I decided on this Book of your Life theme. Take a look: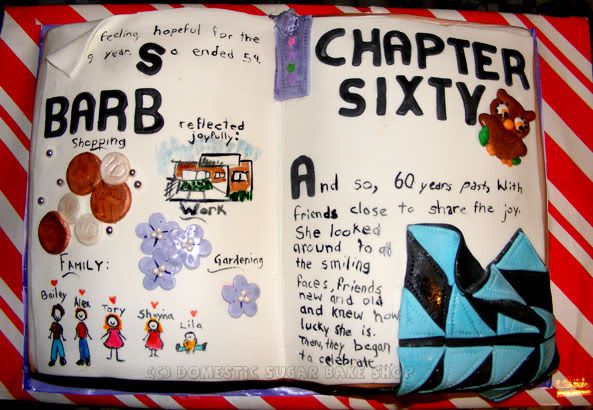 Barb's friends conspired to tell me the things that were important to her: her grand-kids, quilting, shopping, working with friends, gardening. These were the elements that I incorporated into the cake, trying to make it seem like a positive reflection on the years to come, rather than reminding her that death is waiting around the corner with a little scythe and black robe.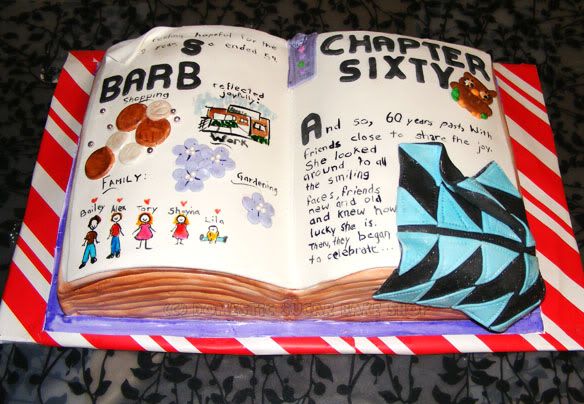 Anyway, over the next week you'll notice some changes here at the blog. I'm going to be revamping this year's design, and hopefully everything will run smoothly. If you find things hard to find for a bit, I apologize. This will be my third anniversary at Domestic Sugar, and so I decided for a change of scenery. My next post will actually be my 200th! YAY.