The wonderful weather continues! Actually, it rained a little here on Monday, but the sun came out and the rest of the week looks clear and warm! You can even see the buds on the trees starting to come out. We've had a very mild winter. Especially for Northern Canada!
This cake is my finest! I truly believe that this cake represents my best work. My friend's daughter was celebrating her 10th birthday, which was also her "Flower Birthday". How excited was I when I was asked to make the girl's cake.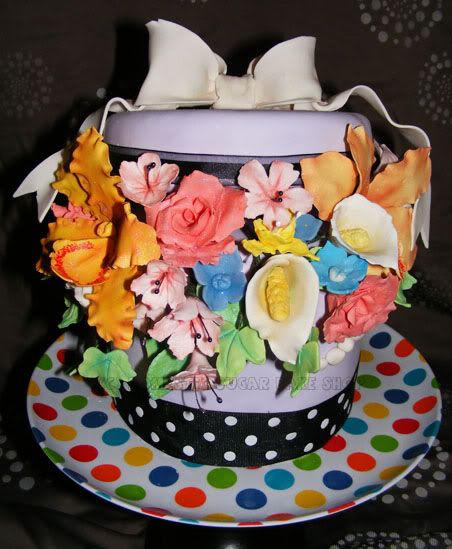 Of course, this cake in my opinion in whimsical. The only request my friend had was "Lots of Colour," and beyond that, she said go to town. This design is a very classic design. It is known as a "Flower Box" Cake. It is a "Hat Box" cake with flowers spilling over the sides and the lid slightly a-kilter. I made sugar flowers for three days! Orchids, roses, hydrangeas, cherry blossoms, calla-lilies, and ivy leaves.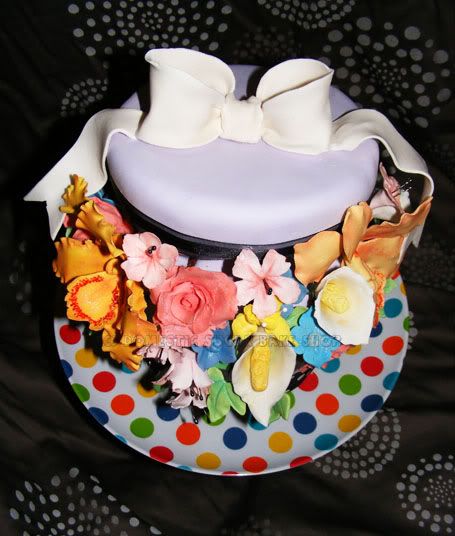 The sugar orchid below is my absolute favorite flower. I have never made a combined flower (that is flower petals wrapped together to make a flower). Most of my tries result in very broken flower pieces. This time, I was able to make two, one for each side, and they looked fabulous!
I think the best part was the party. I taught the kids how to decorate cupcakes. I used piping bags and we did Cuppy bears. I was super excited. They got creative and made Cuppy-Ducks and bunnies and kitties too! The kids did a fabulous job, and hopefully I'll get the pictures of the decorating fun from my friend. My course at the college, which runs April 4th, is full. I am so excited! This was a great run-through!
Well, I have one last cake for this March Break. I have yet to make it.... So many birthday parties, so many cakes! I am having a super fantastic March Break. I hope you are too!