P
U
M
P
K
I
N
S
E
A
S
O
N
!
♪♪ ♥ YAY ♥ ♪♪
Every year I friends give me pumpkins from their gardens. I always spend hours cooking them up, masking them, then bagging them for future use. Rather than make a pumpkin pie (which is awesome), I decided to make, well, pumpkin pies -- that means plural. No, they are not pumpkin pies with flaky crusts and creamy insides, these pumpkin pies come in cupcake form:
BEHOLD
!
The Pumpkin Pie Cupcake with Maple Cream Cheese Icing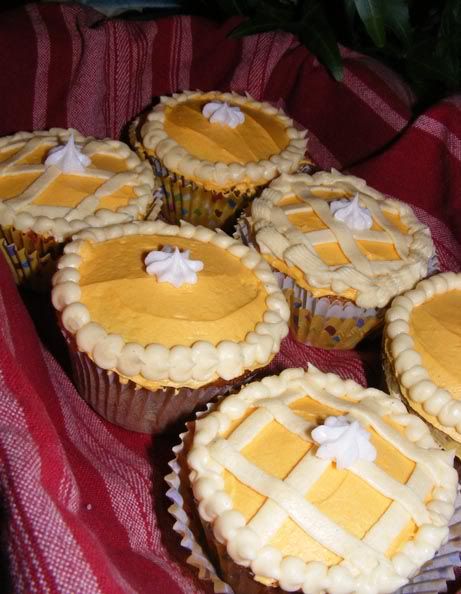 I love the look of these cupcakes. I got the recipe from
Martha
, it's tried and true. But instead of the canned pumpkin, I used fresh mashed. This recipe does not rise very tall or puffy, but instead, is a moist, soft cuppy. With two designs to use, you don't have to decorate them elaborately, they are beautiful simple too!
To decorate, I used my
Maple Cream Cheese Buttercream
:
1/2 c cream cheese
1 1/2 c shortening
3 oz real maple syrup
4 oz heavy cream
8 cups sifted powdered sugar
1. Cream cheese and shortening.
2. Alternate adding cream/maple/sugar
3. Whip until smooth.
LOVE LOVE LOVE these cupcakes! They look super-sweet on the dinner table, and are equally delicious! I very rarely use cookbooks, but Martha truly is a good source for yummy ideas! Spicy, pumpkin-y, and all around perfect for the season!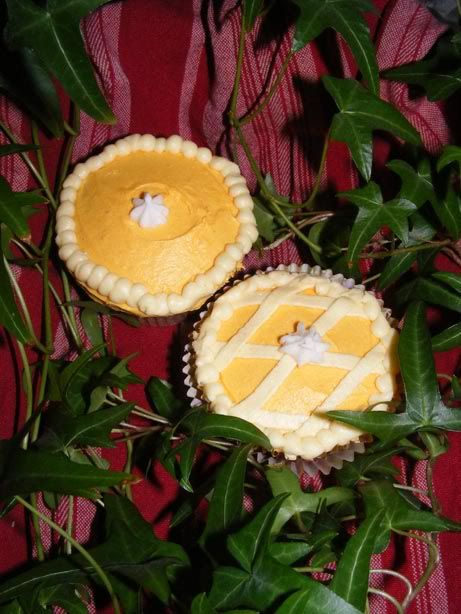 It may not be close to Thanksgiving in the U.S.A, but here in Canada, we're gearing up for the big food fest (and of course counting our blessings). What am I thankful for this year? Many things, but mostly my family. That may sound like a cliché, but they are my greatest source of support, and my greatest source of frustration. I'm very happy to have them! Who else would cheer me on as I run myself into the ground
Marathon-ing
.
What are you thankful for?