If you were asked to create a colourful cake that included the theme of rainbows for a 4 year-old girls' birthday, what would you say?
Could you say no?
No, really, Could you?
I could not! This project was just too fun to avoid!! All week I've been making sugar flowers and sugar butterflies for the perfect birthday cake.
The party was an oasis of colour, big rainbow balloon archways, rainbow balloons everywhere, rainbow parachute, rainbow building blocks and streamers, rainbow tutus... :: dies :: The colours were spectacular. As a centerpiece on the dessert table was my cake.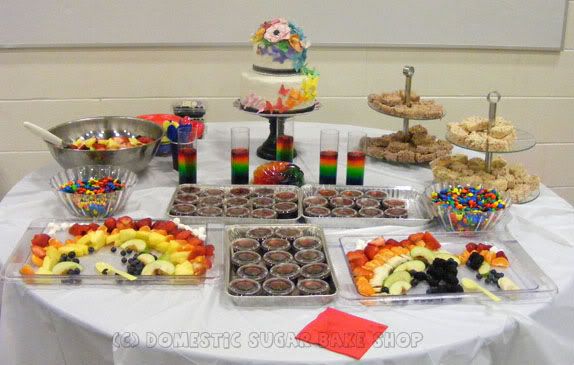 No, this time I did not make the dessert table, nor did I eat all the fruit off of it (as some who know me might have suspected). I simply brought the cake... enjoyed the company, and took photos. Had I forethought, I would have removed the napkin from the center of the table before the photo was taken!
Now of course you can guess that the cake is a rainbow cake. Since the party is still going on, I have yet to acquire a photo of the cake being cut, something I am quite anxious for.
Again, for sugar flowers I choose anemone flowers (
tutorial here
), cherry-blossoms (
tutorial here
) blue bells (which use the same technique as the cherry-blossoms), leaves and of course, calla lilies. The display was mounted on an un-flattened cake top that I allowed to dome to give the whole set a little more volume. Over the edges of the cake I attempted to drape blue-bells and sugar blossoms (both open and not) to give some motion to the cake.
Flying up the sides, I used gumpaste-butterflies which I cut out in rainbow colours. I adhered them to the cake using crusted buttercream, which acts as a glue. Since the wings were worked to be nice and thin, they were very light on the side.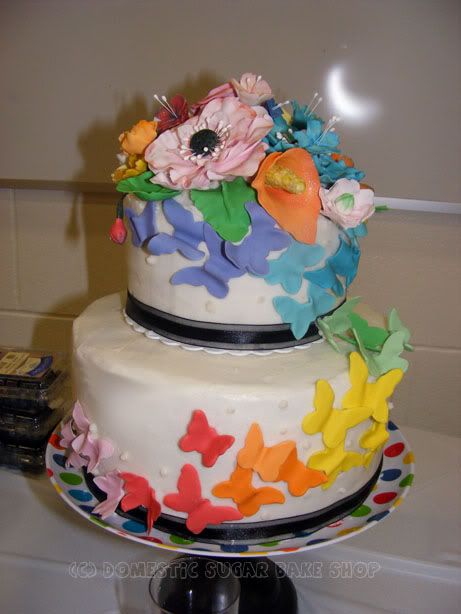 In total, a complete success!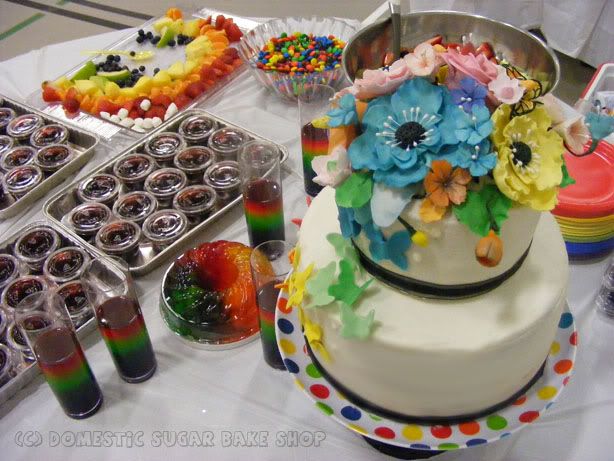 For now, I am thinking Halloween. I've got my costume and some great cookie ideas. I cannot wait to show all of you! Hubbie has been chastising me for wearing my costume around the house (it is decent I swear). I just ABSOLUTLY freaked out when I got it. It's so fun! You'll see :)
Now, I have some work to do! Have a great weekend!