You've got to love the combination of chocolate, peanut butter and cake. If I could eat this with Reese Peanut-Butter ice creme... well, I'd be fat. So, today I'm going to share one of my favorite recipes: The Peanut Butter & Chocolate Cupcake.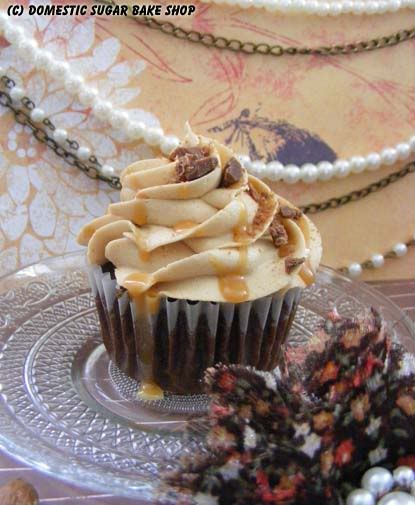 The PB in the icing is light, not overpowering. It is not like you're biting it a spoonful of PB. I know many of my friends use PB as a supplement to their diets, loving to have a late-night spoonful. Me, on the other hand, I like it subtle.
As for the chocolate part of the cake. DIES! This is my go-to cake (not just for cuppies). It is moist, soft and best of all, VERY RICH! Wanna make em'?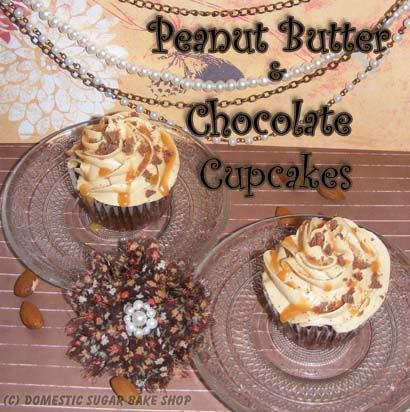 Dark Chocolate Cake:
2c boiling water
1 c cocoa powder (dutch - get the good stuff)
1 tbsp instant coffee (STARBUCKS KIND!... or not)
2 3/4 c flour
2 tsp baking soda
1/2 tsp baking powder
1/2 tsp salt
1 c butter
2 1/4 c sugar
4 eggs
1 1/2 tsp vanilla
Directions:
1. In a medium bowl, mix boiled water, cocoa and coffee. Whisk until dissolved. Let cool to room temp.
PREHEAT OVEN TO 325
2. In a medium bowl, mix dry ingredients, flour, baking soda, baking powder, and salt.
3. In a large bowl, blend sugar and butter until fluffy. Add in the vanilla and eggs one at a time.
4. Slowly alternate cooled chocolate and flour mix until fully incorporated. Blend on medium for 2 minutes.
5. Place batter in divided cuppie tins or in greased cake pan.
Cuppies: bake about 15-20 minutes.
Cake: bake 30-40 min or until toothpick comes out generally clean.
REMEMBER, IF THE TOOTHPICK IS COMPLETELY CLEAN, YOU'VE OVERCOOKED!
Peanut-Butter Frosting
:
1/2 cup shortening
1 c Creamy Peanut Butter
1 tsp vanilla (good stuff)
1c powdered sugar
2 oz (or so) of heavy creme.
Directions: Whip shortening and peanut butter. Add in vanilla. Slowly add in the Powdered sugar and heavy creme (alternating is best). If you need to add more creme, do, watch the constancy - it will depend on the brand of PB you use. When it is whipped, smooth, and soft, you know you've done a good job. You can eat it with a spoon or place it on cuppies. :: dies ::
TOTAL: you can add the frosting to the cuppies when they are cooled, then crush some chocolate (I used an Aero bar) then drizzled some caramel ice-creme topping on the top. SO GOOD!
I hope you like them!