Our local teachers had a wonderful fish-fry get together this week. Each department was asked to bring some type of food (salad, buns, desserts etc). Not surprisingly, my department was asked to provide desserts. I figured, since we're a bunch of teachers, I should bake something that represents us... Like Owls... they represent wisdom.
I made three colored owls, well, owls with three different wing colours. Pink, Orange and Green. The best part of a cookie is seeing it come together. First, each cookie consists of two cookie cutters pasted together. I took an Owl head cookie cutter and fitted it to a circle body. I wanted Fat owls, and all I have is small thin Owl cutters. Fat owls are happy.... and fat :)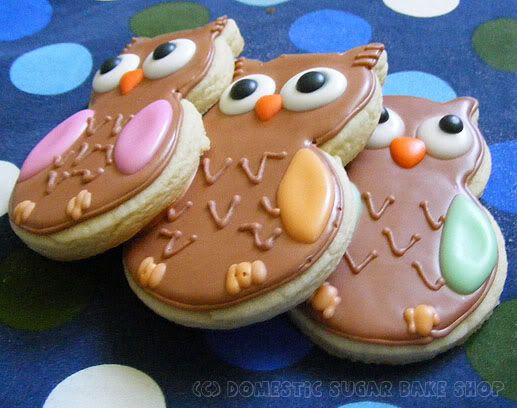 The best part was my husband's reaction. He loved how they looked and snickered at how the eyes seemed to stare at you. Then we started walking around the house saying "Owl-always love you" and "Owl do the dishes for you" etc. At this point, we devolved into sugary-cute married people. Lame as it was, the Owl Cookie seemed to really be a catalyst for silly love banter ♥.
At the fry, the cookies were a huge it. So, I was pleasantly please. I like it when people pick them off a table as the dessert that most appeals to them. It makes me feel special. Some people ask if I get sad, seeing a cookie or cake get eaten after you've worked for so many hours to make it beautiful and perfect. The answer is, I do not; when people enjoy the work of art by eating and enjoying it, I get a special feeling: Pride!