Are we sensing a theme? Another pumpkin post. I have quite a few in store. This one in particular has me all tingly. It has been a year in the making, and comes with some special extras after the show.
The Pumpkin Pie Cupcakes
that I made last year have been one of my most popular posts to date (second to my first
Tangled Cake
). The recipe is flawless... so good are the cupcakes, so moist that I always get requests for these from friends! Plus, they look so cute! I realize that they are easy to make too, but I decided to put up a detailed tutorial to show just how easy they are.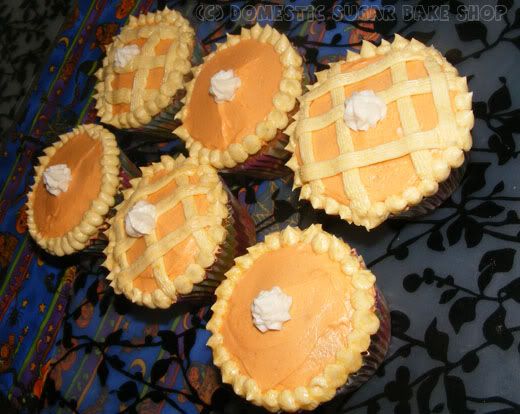 You will need the
Pumpkin Pie Cupcake recipe
as well as the
Creme Cheese Frosting
(or any basic icing recipe that you choose). You just dye the icing into three different colors, a small bit of white for the 'whipped cream, one a VERY pale orange (or yellow) and one a darker shade of orange.
There are two ways to make them. This is the simpler of the two:
Start by spreading the dark orange icing across the cooled cupcakes. I use a butter knife.. nothing special there (o__-);
After that, grab a piping bag or even just a zip-lock bag with a small hole in it. I use a Wilton piping tip 7 for this (which you can get at Walmart) and fill the bag with the lighter yellow/orange frosting. I pipe a bunch of dots around the outside of the cupcake to cover any area uncovered by the orange frosting.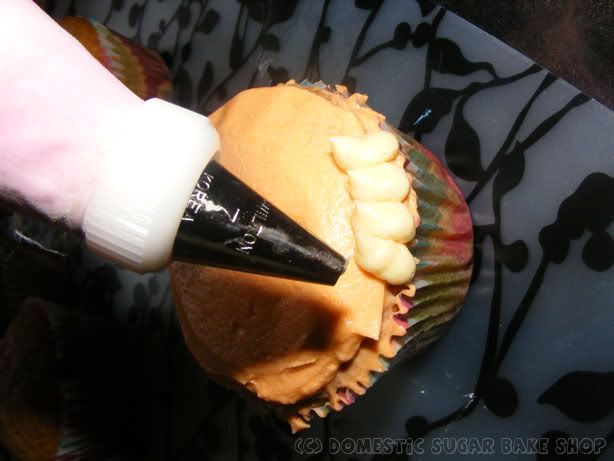 Like So!
Now to make it look like a pie: It's simple; you can either do a small rounded dot of 'whipped cream' (also of frosting, this time white), or you cause the Wilton #8 star tip which gives nice edges, like the top of whipped cream can. Pipe that with a swirl....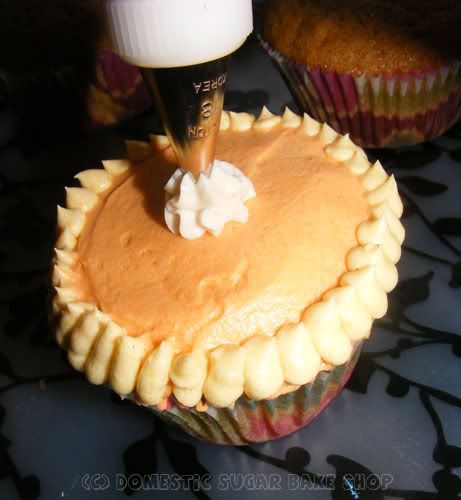 and Voilà!
Now, option two is a lattice-work pie top. For this, you will need a good tip for the cross-lattice work. I use a Wilton tip #46 (I use a lot of Wilton tips, even though I actually don't really like Wilton products). This tip has a flat side and a ridged side that makes a nice pattern across the tops of the cupcakes: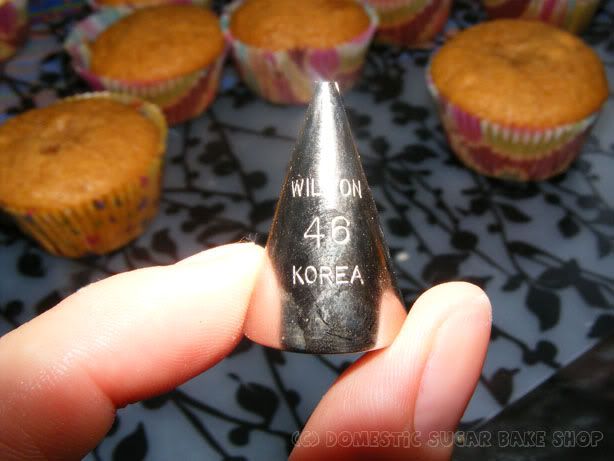 (See the detail in the lines?)

Normally on pies it's layered, but for this, I keep it simple and simply make lines across the cupcake, then cross over them. It's not a perfect system, but it is much simpler than fussing on 'correctness'.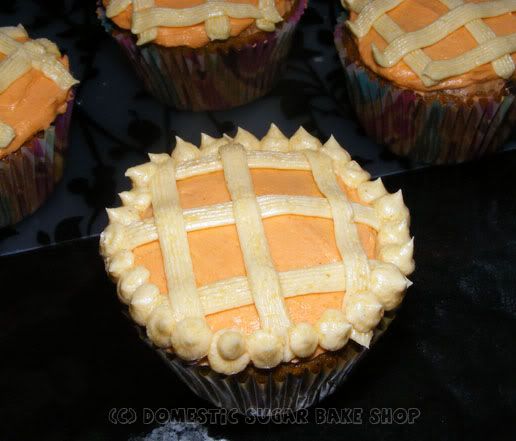 Do the borders the same as above, and give this cuppie a dollop of the white 'whipped cream" and you have it!
I had some extra batter, and being rather unprepared, I actually ran out of cuppie wrappers. So, below is a giant 'pie' cuppie I used a 4-inch cake pan to make. I thought that was a smart idea. A Pumpkin Pie Cupcake/Cake for two!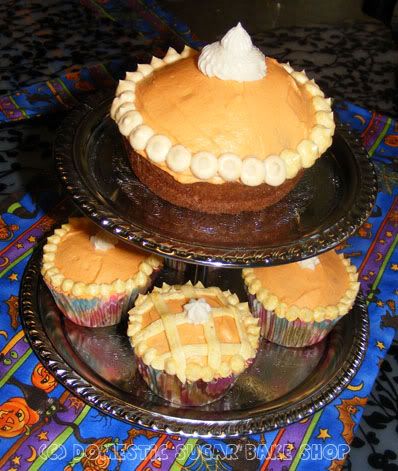 Now, for the BONUS MATERIAL!
I thought it would be a good idea to show you what has inspired me to bake so much pumpkin stuff. I love photography, but living in a small apartment with horrid light makes it difficult to get nice shots of things, especially since I bake mostly at night. I thought I would show off some of my home town, Fort Frances, the way I see it. I went on a little photographing excursion this week. I hope you see how beautiful the region of North Western Ontario is. Most people are afraid of the cold, and generalize it. It is such a beautiful area to live. Very peaceful!
This is what I captured: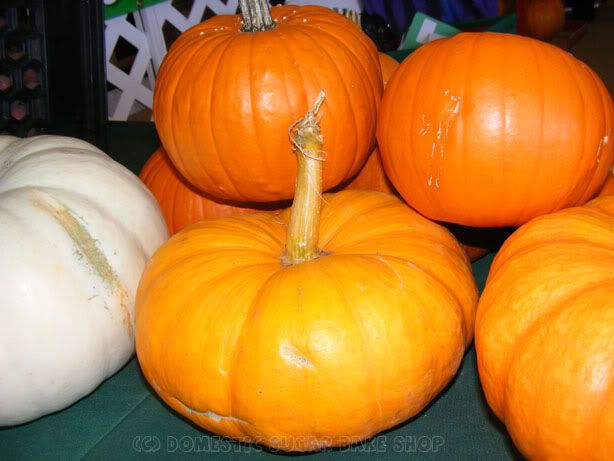 These pumpkins are from our local Farmer's market, grown out of EMO. The kind lady at the stand let me photograph hers, since the ones I bought from her last week were processed before I snapped some photos!
Below the ride I take To and From work, as well as some beautiful shots of items of interest: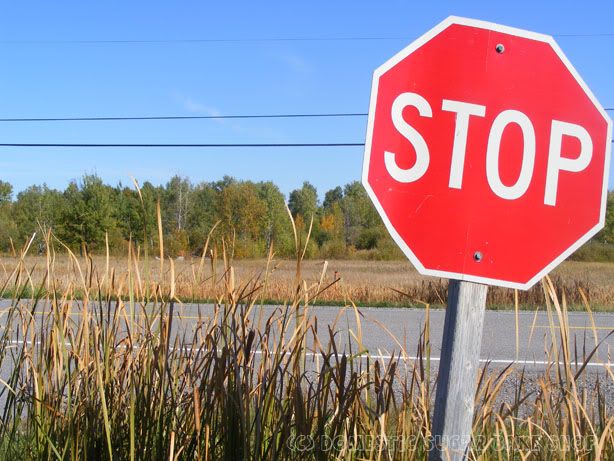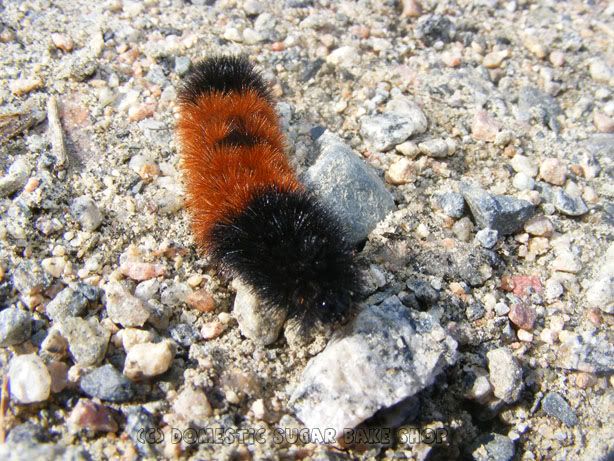 Now, I'm not big on photography, but the area was so beautiful, my friend asked to take a couple of shots of me. So, me posing on one of the trees (by the stop sign) Note the sexy pink socks that so do not match my outfit. I love wearing knee-high socks, the more colourful, the better!!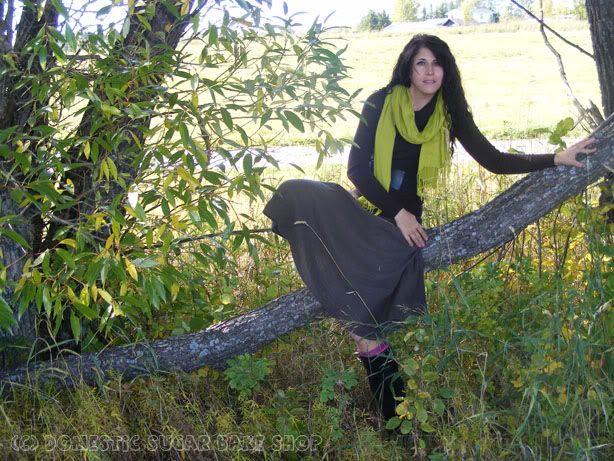 Thank you so much everyone for following and reading. I get such pleasure in taking photos and baking. It makes it so rewarding to see that people actually care about my rants and ideas. It's a wonderful feeling to see new followers and try some of your recipes and ideas.
Next up, a supper dish!
Until then!