My husband, the science teacher, is always telling his students that the only way to go in the Calculator department is with a Casio. I don't know why, but he espouses the virtues of the mighty Casio.
So, on a boring day, when him and his students were killing time, he showed them my blog. They browsed through the cakes, cookies and desserts here. I mostly use this blog as a reason to bake... somewhere to show my desserts so I remember them.
Funny how things go when I get a letter from the students, written formally in pink ink, asking for a cake in the shape of a Casio Calculator. How could I resist?
So, I decided, WHY NOT?! I don't usually do requests from students, only their parents, but these kids are good, and with my husband's blessings, I began to make them a delicious treat.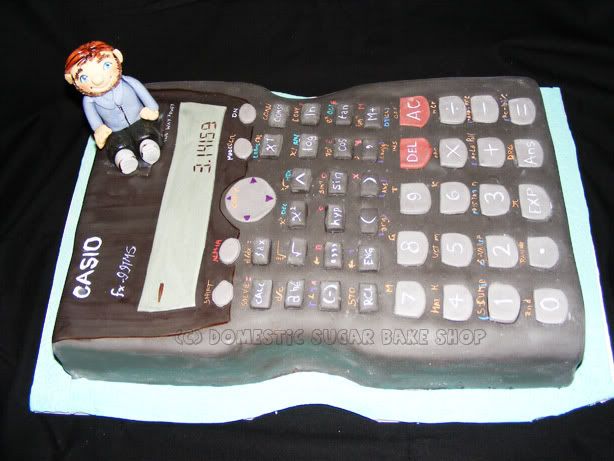 The cake itself is Chocolate Fudge with Mocha Buttercream, covered in Chocolate MMF and accented with a gumpaste Mr. Spooner (AKA Hubbie).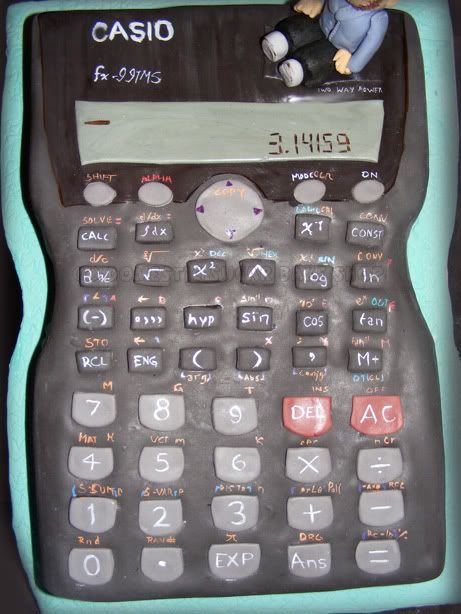 I had to look at Hubbie's calculator to get the writing just right, and hand painted each of the symbols on with wondrous Americolor gels (mixed with white to help them show up).
It was good fore planning on my part that I was able to do the cake. I knew I would not have a lot of time tonight to do it, so I did most of the work last night. Good thing too, my back went out. I am happy to report that I am feeling better after some rest, but I was worried this cake would not get its finishing accents. Luckily, they were small, and easy to do.
Now, I am looking forward to a simple and easy weekend with no obligations and a really good book!
Hope you all have a great Weekend!