Babies! I've got none yet, but I am a very proud Aunt of three wonderful little ones. Little ones always make me smile especially when they laugh! Melts my heart.
I am happy to announce that one of my coworkers has recently given birth to a little one of their own. Carson was born last week to two very proud parents. Since I figured they had all the 'things' they could possibly need, I decided to do what I do best and bake!
These cute little cookies are inspired by some rather cliché designs, but none the less, are adorable! Looking through my files, I noticed that I've not done any (I think) baby-shower/baby-themed cookies. HOW! For three years now I have been blogging up a storm, and I have yet to do baby cookies!
Not that all my cookies have to be complex. I wanted to show a cute little tip for those of you who have less time but still want to bake cookies for little kiddies. These Button cookies are the perfect solution. (see them all around the decorated cookies?) They are simply
my sugar cookie
recipe
(or any sugar cookie) dyed to the proper color.
Now, take a look at the loose buttons around. Those are a great cookie to make for those who are busy! Let's give you a little tutorial on those!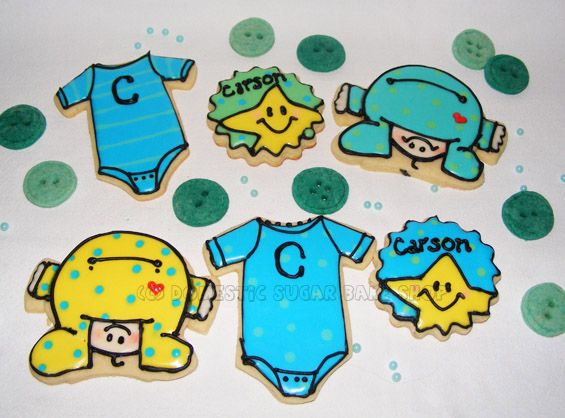 First Find three Round cutters. I used my piping tips, 1M ( large star tip), a smaller round large tip, and a regular 3 round tip. You could use any small round things to do these, and even make bigger buttons. Roll out your dough, and using the larger of the three circles, cut out a circle for the button.
Next, take the medium round circle and, very carefully, place it in the center of the large circle and apply slight pressure (don't go all the way through). This will be the little indent of the button.
Finally, using the smaller circle (my 3 round tip) punch holes all the way through for the button holes. AND Voilà! Bake as normal! (5 min @ 325 Degrees)
Now you know a small, simple way to make cute baby cookies. These ones will be packed off and sent to the proud parents. Hope they like them!