Happy New Year: 2010~!
Well, let's all ring in the new year together! Last year was fantastic, so here is hoping and wishing you all the best for 2010!
As always, I like to ring in the new year with something special. Here in Fort Frances, we like to do a little something special to show how Canadian we truly are. Enter: The Polar Plunge 2010. This is my second time in the 'Plunge, and on record, also the coldest!. This year's chill topped -24 degrees Celsius.
As you can guess, not much open water would be found in most places, but here on Rainy Lake, the water moves quick enough to leave open water on the river... which paints an interesting backdrop for this year. Here's what I saw this morning:
The mist you see shows just how cold it was; the air temperature was warmer than the water, resulting in mist.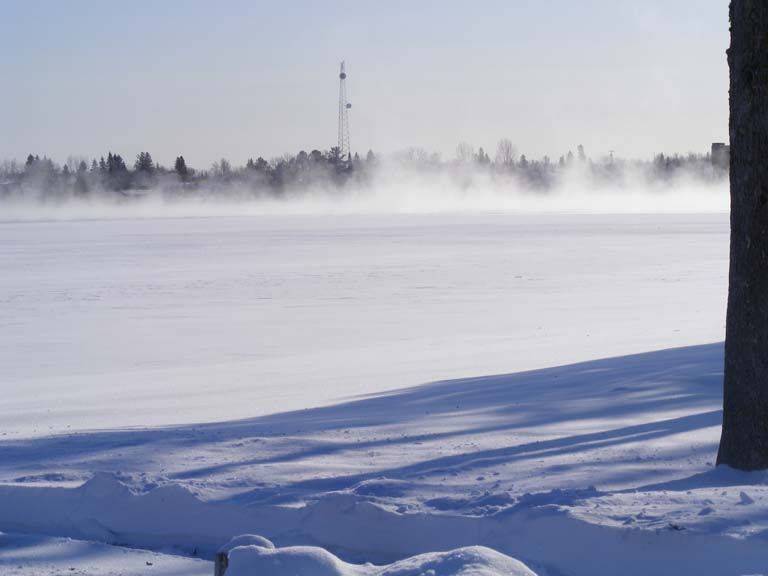 I'm not a sissy at all, and neither was the group I was jumping for. I grabbed a hat, scarf, and my outfit, and headed to the ice.
Yay for nerdy 'ol me! It was not until this point that I truly began to feel appreciative towards the weather. Sure, it was 'hella cold, but at least there was no wind chill. On the lake, trust me, that can hurt!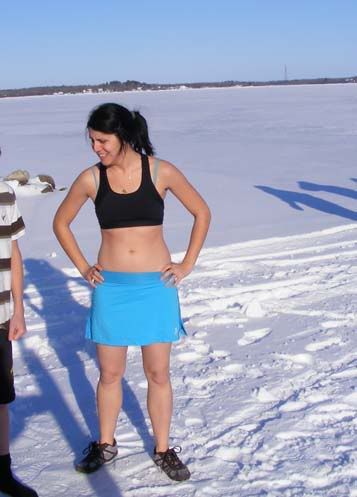 Into the Ice Hut, outa' the cloths, and onto the ice.

NOW IT'S GO TIME!
You can only imagine how cold it was. I have to say, it was bloody cold! But, that's part of the fun right! To prove I did it: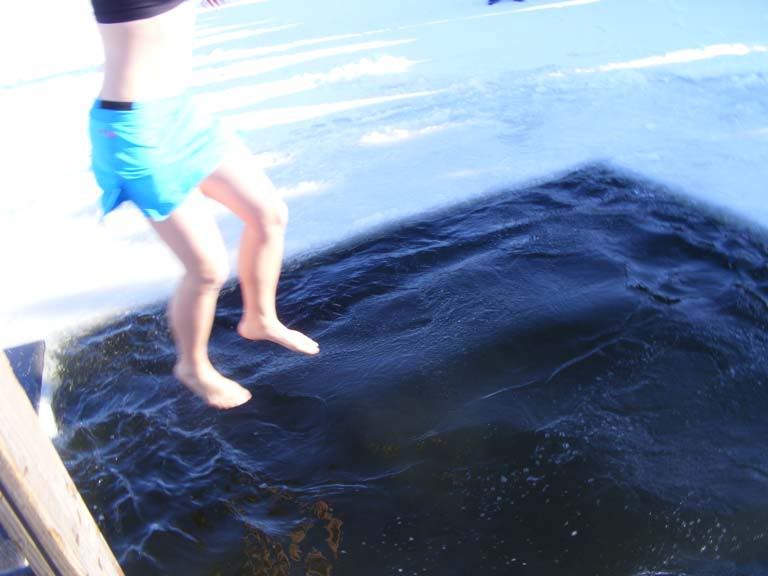 Okay, So I didn't get any good pictures of me in the water, but I assure you, I am so crazy that I actually did a Hand-Stand, meaning, I voluntarily dunked my head, found the ground, and Did a pretty hand-stand for the crowd. I was proud. But then again, when I went home, I had sand in my ears.
And so ends that experience. But, WAIT! This is a baking blog right? I should not stop with this cold thought when there are warm goodies to be made. Onward!
Warm Apple-Spice Cake.
Nothing beats the smell of warm cinnamon and ginger with the appley goodness of ... apples. Onward to the Warm Apple-Spice Cake.
This is a very simple recipe, making a lovely loaf which is great for the chills of winter.
First, mix 3 tbsp Cinnamon, 5 tbsp sugar, to 4 lg pealed apples. (Set aside).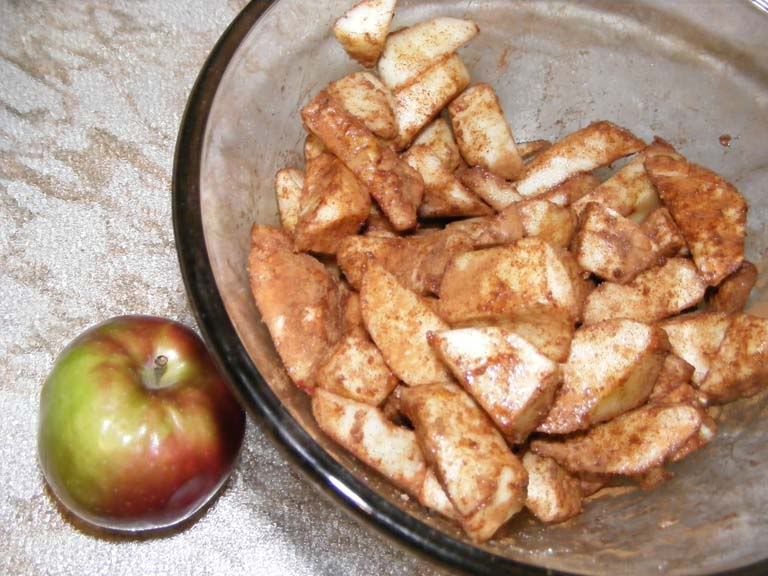 Next, mix 2 c Flour, 2 tsp Baking Powder, 1/2 tsp cloves, and 1 tsp ginger.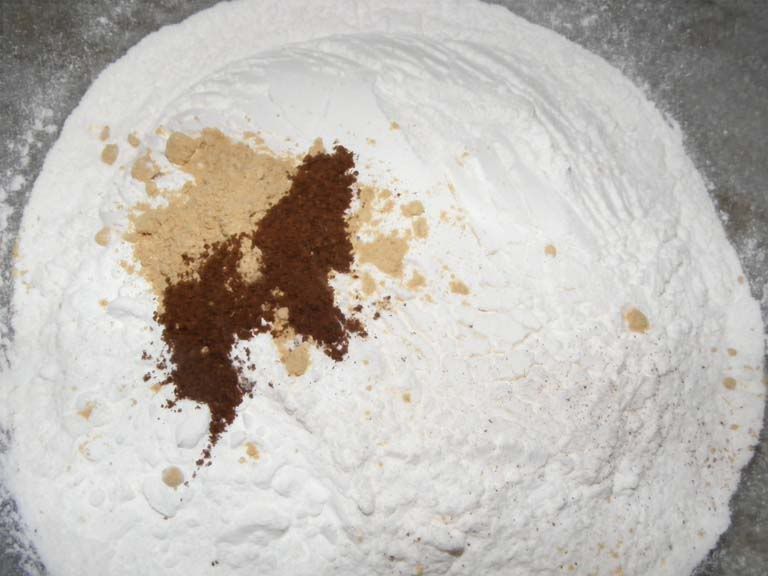 In a separate bowl, mix 1/2 sugar and 1/2 c butter. Blend until Fluffy. Mix in egg. Then Add 1 tsp Vanilla.
Mix flour mix alternately with 3/4 c Milk.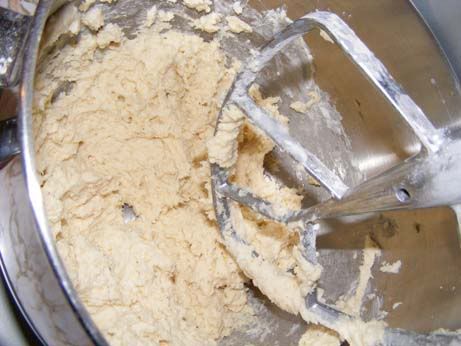 Grease loaf pan (non-stick), then add 1/2 the mix, then apples, then the rest of the mix on top.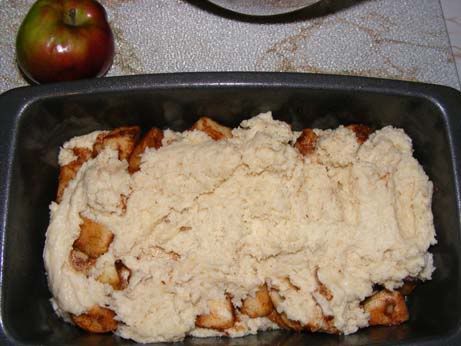 Like so. Bake at 350 for 40-50 min.
and...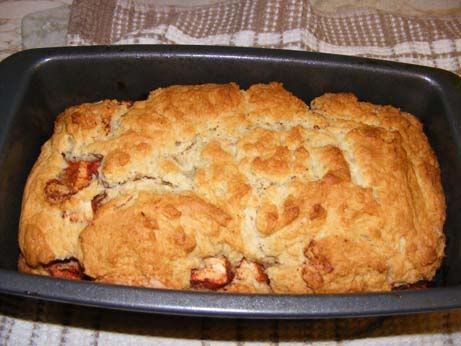 MAGIC!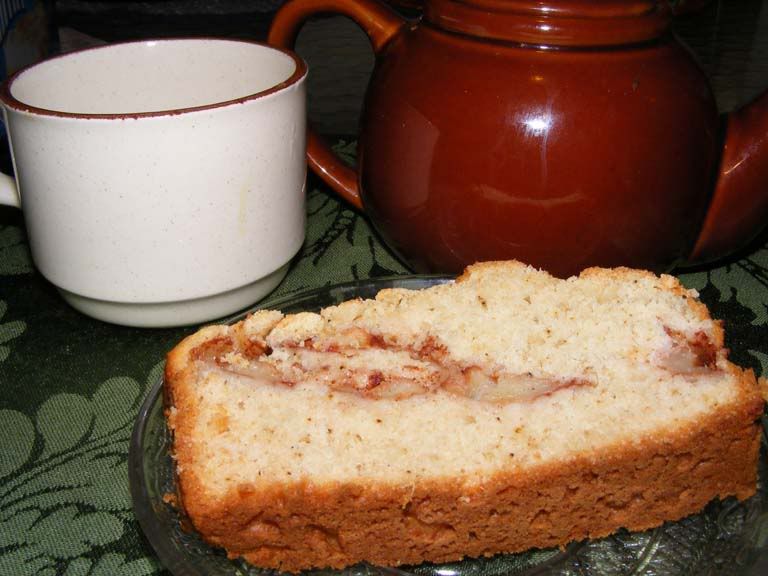 It is good warm, or up to 4 days. Keep covered. Enjoy! Grab the Ice Cream and dig in. I think today I'll skip the Ice Creme, but your choice!
Happy Holidays. Stay warm!