This has been one sour week, luckily, that is because of pie: Deliciously Sour-Sweet Lemon Meringue Pie! It has always bee my favorite type, right next to Key-Lime Pie. Maybe it's the fruity center, which is smooth... Maybe it is the fact that it does not contain chunks of fruit, like other pies. I don't exactly know why, but it's just a pretty pie to look at.
I just love everything about pie. Especially sitting down to eat it. Nothing beats pie!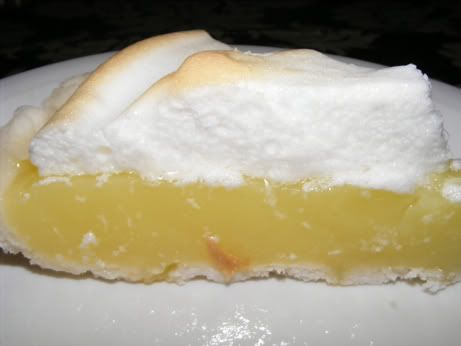 So, Recipe? Adapted from an old Food Network recipe.
Crust
1/2 cup of shortening (cubed)
1 1/2 cup of flower
1 pinch of salt
1tbsp sugar (mix to crumble)
1/4-1/2 tbsp ice water (to hold it together)
Mix salt, sugar and flour. Cube shortening into the flour and crumble into pea-sized bits. Slowly add in the ice water (mix until it is a dough that lightly holds together). Cill dough for 1 hour, roll out, fold into quarters, roll out, bake @ 350 degrees for 7-10 min. , the pie is so flaky~ It is a tried and true method!
Filling
1 1/4

cups

sugar

1 1/2

cups

water

5

tablespoons

cornstarch

5

large egg yolks

dash

salt

1

tablespoon

finely grated lemon zest

1/2

cup

fresh lemon juice

2

tablespoons

unsalted butter
Meringue
5

large egg whites

1/2

teaspoon

cream of tartar

1/3

cup

sugar

1

tablespoon

cornstarch
Directions
To Assemble
Make Crust :) Some like it crumbly, some like it shortbread, some like it a classic pie. You choose.


For filling, whisk sugar, water, and cornstarch in a pot. Whisk in egg yolks and salt and cook over

low

heat for about 5 minutes, whisking constantly. Increase heat to

medium

and, still whisking, cook filling until it begins to bubble just a touch - when it does, remove. Remove and strain. Stir in lemon zest, lemon juice and dissolve in butter . Pour mix into cooled shell, let cool before sticking it into the fridge to set.


Meringue: Whip egg whites and cream of tartar in a

clean, dry

bowl until foamy (no peaks, but no runny egg. Slowly, while beating, incorporate sugar, and whip on highest speed until stiff peaks form. Whisk in cornstarch and dollop or pipe (using a piping bag) over chilled lemon filling. Bake pie for 8-10 minutes at 350 degrees, just until meringue browns lightly. Let pie cool or chill until ready to slice.
For now, enjoy the prospect of pie in the future!