♥
♥
This cutter is SO ADORABLE!
♥
♥


When I saw the cupcake cookie cutter on
Off the Beaten Path (cookiecutter.com)
, I just knew it would inspire the most precious cookies! The simple shape (below), is either a muffin or a cupcake, whichever you dream it to be. To make cupcakes, simply envision the wrapper, choose a cute colour, then pipe away! For these cupcakes, I mean, Cookies, I choose a yellow wrapper and white icing!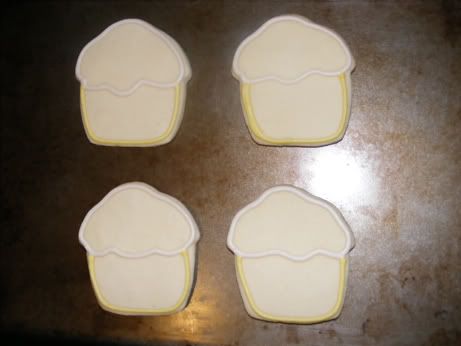 To make them extra cute, I put heart-shaped sprinkles right into the icing. Then, topped the cookie with a heart-shaped cherry!
♥
♥
They were simply adorable!
♥
♥
Here's the finished product:
I made three types, not being satisfied to not play with my design. Personally, I like the simple one the best, but the outlined and wrapper-lined cuppies are also amazing! I think I'm just in love the with concept of Cupcake Cookies!
I need to actually make the real thing now... cupcakes that is
☺
. Maybe this weekend. I have a new set of tart-shells to play with. So much to bake, so little time!
♥