As a little Valentine's cliché, I decided to make a Heart-Shaped, Focaccia Pizza.
♥

Interested in making a healthy pizza? See the recipe below!
Step 1: Saucy! The nice little red-silhouette.
I had to make two pizzas because I wanted left-overs
☺
This little pizza was for lunch tomorrow:


The Main Course! My husband and I worked together to make this one. Toppings: Mozza, Cheddar, and FETA cheeses, spiced chicken, and tomatoes! Too bad there were no mushrooms.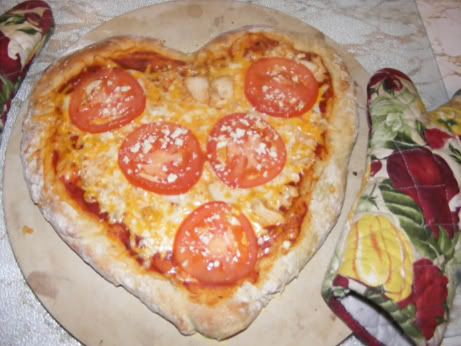 Look at that crust! YUMMIE! The rosemary is really the key in this pizza. The dough is great on it's own, but something about that rosemary taste makes all the flavors come together! It's just the right analogy for our little evening: Pizza and a movie on the couch!
Making pizza from scratch is so much better than the box or, GASP, a pre-made crust. It is simpler than you might think. You can pick up the ingredients from the store, and make a crust for under 3 dollars! At least this way, you know what is in the pizza (no additives). Not only that, but you can make it healthier by using whole-wheat flour!
Recipe: Crusty Focaccia Pizza:
1 pkg (2 tbsp) active dry yeast
1 cup warm water
1/2 tsp salt
1 tbsp honey
1 tsp sugar
2 tsp olive oil
2 1/4 c flour (depending on humidity and altitude) - I like to use bread-flour, but all-purpose is good too.
1 tbsp ground Rosemary
1 tbsp Italian Spice
1 tbsp cornmeal
Directions:
1. Dissolve yeast, salt, honey, and sugar in warm water. Let stand until yeast is frothy.
2. Add olive oil. On medium setting (mixer) add flour in slowly. Continue mixing until incorporated. Grease the top of the dough with a little olive oil/cooking spray. Let dough stand in warm, dry, draft-free place for 15-20 minutes, or until doubled.
3. Sprinkle pan with cornmeal. Press dough into a pizza pan, leaving a ridge for a crust. At this point, I simply shaped the dough into a heart. Sprinkle with Rosemary and Italian Spices
4. Add sauce and toppings. Bake at 450 degrees for 15-20 minutes, or until crust is browned on the bottom. Let cool 2 minutes before cutting. ENJOY!