One of my co-workers was celebrating their birthday today, so I figured that, rather than transport a whole cake, I could make a batch of cute cupcakes!
This inspired me to share one of my favorite cupcake and icing recipes!
Enter: The Vanilla-Butter Cupcake!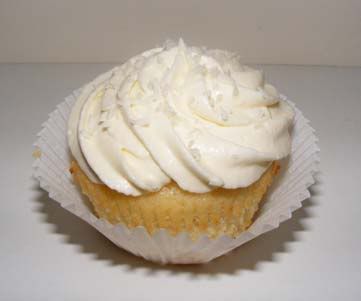 This is a simple cupcake to make because it does not take a lot of effort to get a perfect rounded top! Many of the recipes I have for cakes etc. don't like to rise like this one does. Truth be told, I got this recipe years ago from
Canadian Living
(the magazine). While the recipe does not seem to have made it to the website ( I figure because it has been so long), I have a nicely recorded copy to share!
Vanilla Butter Cake:
- 2 1/4 c Cake Flour
- 1 1/2 c sugar
- 4 tsp Baking Powder
- 1 tsp salt
- 3 eggs
- 1/2 c unsalted butter (room temperature)
- 1 c milk
- 1 tsp real vanilla (artificial extract is okay too)
- 1/2 tsp Almond extract
Directions:
(Preheat oven @ 350)
1. Fork together flour, sugar, baking powder, and salt
2. Cut butter into flour and add milk, vanilla and almond. (should be mostly crumbly)
3. Beat on low, add eggs and slowly add milk.
4. Mix for 2 minutes on medium speed.
5. Bake for 15-20 minutes, or until toothpick comes out clean.
Once you have the cupcake all cooled and happy, it's time for the icing. I use a Swiss Meringue for the top -- it's not as simple as a butter-cream, but I find it is less sweet.
Swiss Meringue Buttercream:
- 3 egg whites
- 2/3 c sugar
-200 g (3/4 c) unsalted butter
1 tbsp vanilla
(
c
o
l
o
r
if desired)
Directions:
1. Place sugar and egg whites in a heat-proof bowl over double-boiler. Beat mix constantly until sugar is dissolved and mix is warm to the touch.
2. Remove from heat -- whisk with mixer until mix forms firm peaks (not dry). Mix will be cooled.
3. Add vanilla. Add butter piece- by piece and blend until incorporated. You can add a little extra powdered sugar if you find this not sweet enough. It is a light, fluffy type of icing... YUMMY!
Chill before use, about 15 minutes.
Now, I LOVE to do little touches. These cupcakes are snow-white. I like them that way, but there should always be a heart to baking. So, when I spoon in the batter, I added a cherry to the center, the scooped more batter on top. The effect, a sweet heart center!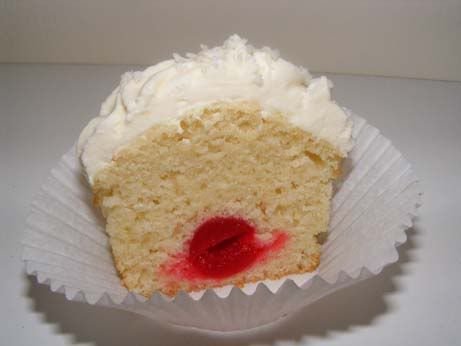 How cute is that? You can really see here how the cupcake rose. So yummie. Hopefully you'll like them as much as I do!