I was playing around in the kitchen last night because it was raining all day, and it was cool outside, and I thought I'd make something a little fun. I made, the
Teacup cake
! Perfect for tea parties!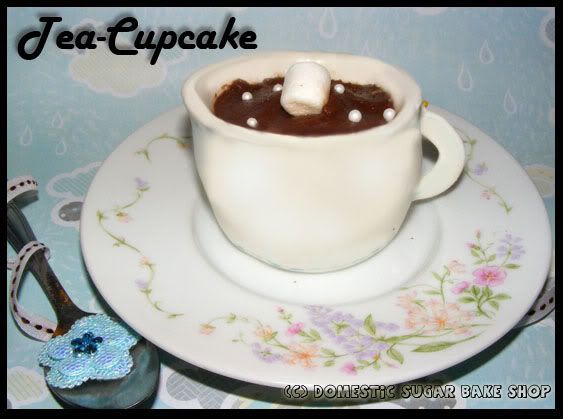 The idea behind this little dessert is that it is a black-forest cupcake wrapped in white fondant, then, filled with chocolate ganache to give it the appearance of a cup of hot-cocoa in a teacup.
♥♥♥ SO CUTE! ♥♥♥

Hubbie was feeling deprived of sweets, and Black Forest cake is his favorite, so this was a cute and creative way to play.
Recipes used:
Chocolate Cake
(for the black-forest base) + cherry pie filling (any will do)
Marshmallow Fondant
(for the cup)
DIRECTIONS:
1. Bake your cupcakes in wrappers, remove wrappers when cool.
2. Cut out the center and fill with cherry pie filing.
3.Cut a strip of fondant, let harden slightly, wrap around the cupcake using a little white icing to stick it to the cuppie.
4. Using cooled (not too hot) ganache, fill the 'cup' with a little chocolate so as to cover the top of the cuppie. Add a marshmallow.
5. Using a bit of fondant, make a little handle in the shape of a 'C' and adhere to cupie with a little piping gel.
Voilà!
Serve on a saucer for best effect.