IT HAS BEEN HOT! I mean, 35 degrees Celsius (95 for those in the U.S.). I think I've been swimming 5/7 days this week. It is a good thing I'm careful about swimmer's ear! What can I do to beat the heat? Well, a cool bevvie certainly helps! This Rhubarb slush is sure to be a hit to cool you off! Shout out to a lovely lady by the name of Olga who introduced me to the recipe! Thank you!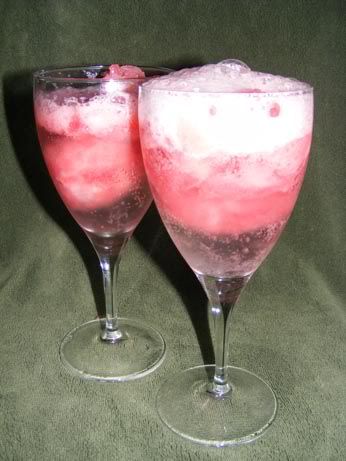 Put into an ice-cream pail and freeze. When done, put 2 scoops (with an ice-cream scoop) of the rhubarb slush into a glass, add club soda or ginger ail. Works good with 7-up too, but it will be sweet. For the adult version, add some vodka! SOOO GOOD!
Rhubarb Slush
8 cups rhubarb
8 cups water
1/2 c lemon juice
boil down rhubarb, water and lemon. Once rhubarb is soft strain out the liquid (throw out/compost the rhubarb).
1 large jell-o pack (jiggily kind) Rasberry, strawberry, lime.
2-3 cups sugar.
To the liquid mix, add sugar and jell-o, stir until completely dissolved.
Allow mix to cool slightly, then place in an ice-cream pail. Freeze overnight.
Place 2 scoops of rhubarb slush in a glass, fill remainder with club soda or ginger ail (add vodka :)
ENJOY!
Honestly, given the cool summer we had here last year, I am super excited to finally be able to enjoy the heat and sun! It gets quite cold in the winter. Summer balances me out.
Please be sun-safe, wear sunscreen!