The Cheerleading wind-up is coming. This Thursday I promised the guys that I'd bring some kind of special goodie and asked what they wanted me to make. Naturally, they asked for a cookie. So, well, okay, while I realize this will spoil the surprise for the girls, I could not wait to post this cookie design! I made what they asked for, Dr. Seuss' Grinch... IN COOKIE FORM!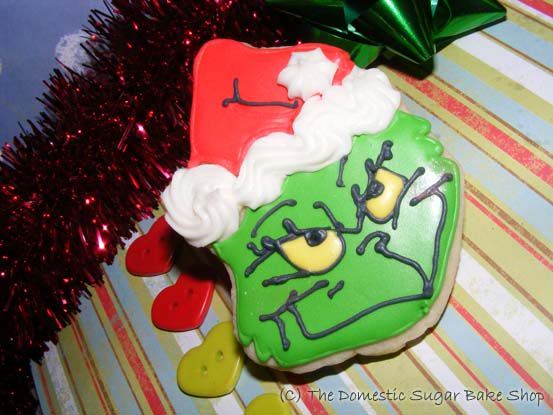 One of the girls loves the Grinch so much, she wears a hat with his smirking face all year long. It's beautiful!
I have to admit, free-handing these cookies proved to be a bit of a challenge. First, I cut out a picture of the Grinch's head, then I baked the cookie and began to decorate by first outlining the face in green, flooding it, then painting on the smirk. I realize that normally you'd start with the base layers (green and blue in this case) then add the detail, but I was simply too excited to do that. I just had to make his face. You can't really tell but I brushed pink luster-dust on the cheeks. I guess my Royal Icing is a bit too smooth to pick it up though. :)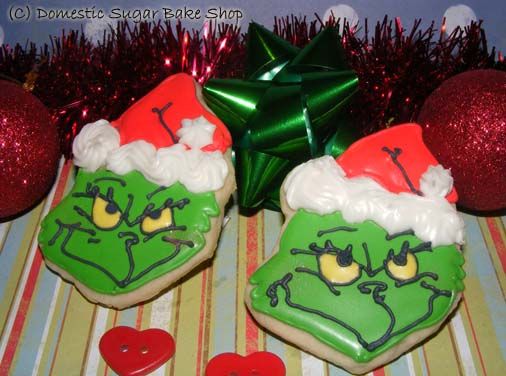 While not all the smirks equally looked devilish, my husband came home today and said, "OH WOW, IT'S THE GRINCH!", so I knew beyond a doubt that I must have done this right. I wish I had a KopyCake... if anyone feels philanthropic and wishes to send me some cheer for Christmas, please feel free to contact me. :)
P.S - Did I mention that it is currently -28 degrees C outside? Good thing my oven was on! I might have frozen. SNAPS TO BAKING COOKIES DURING WINTER!