Have you ever had a York Peppermint Pattie, or any peppermint pattie for that matter? Do you know how icy cool they feel, and how they melt in your mouth so good!? Well, I've been dieing to try this recipe for some time now. I'm super happy to share it with you! This is recipe is only a part of the Christmas Baking I've begun. I've got many more favorites to show you over the next couple of weeks, so keep with me on this one.
The peppermint Patty! Wanna know how to make it?
In A bowl, combine the following ingredients:
- 2 1/4 c powdered sugar
- 2 tbsp light corn syrup
- 2 tbsp (you may also need some extra) water
- 1 tsp peppermint extract
- you may want about a tbsp of shortening to keep it from sticking to the rolling pin.
The ingredients should start to ball together, when they are just starting to form into a dough ball, take the ball out and kneed it a little to ensure full incorporation (you may need more water at this point). You do not want to put too much more icing sugar into the dough or it will be too thick and not as melty when eaten.
While kneading it, you can add colour to the dough. I separated into two colours, green and red for Christmas.
CAUTION! The dough is very sticky! You will need to use lots of Powdered/Icing sugar to keep it from sticking to the surface of your counter. Just take a deep breath, and work with a dough scraper.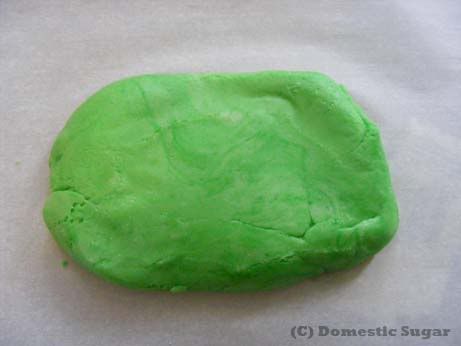 Once you have your dough is good to go, begin rolling it out between parchment sheets. Again, it will be quite sticky. You can also use a little shortening to prevent the sticking.

Either roll out the single colour, or layer then roll up the two colour doughs to make the swirl. Here, I layered Red and Green.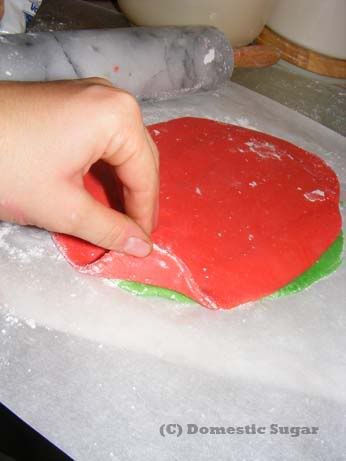 All coiled up...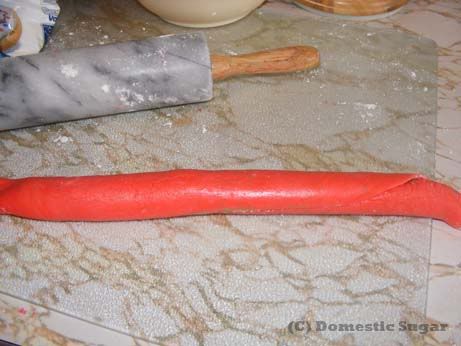 Cut the roll in 1/2 inch increments. The dough will sag, and you may need to slightly reform it as you go along. It's quite easy!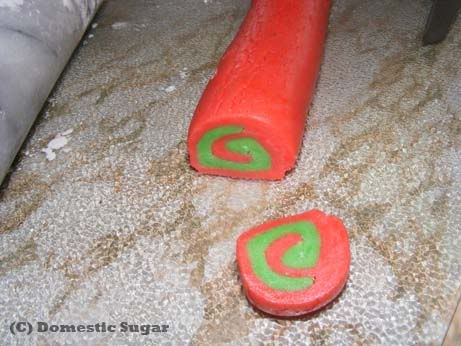 Now, take the mint insides and freeze for about 10 minutes or so. While they freeze, temper 300 grams of fine quality chocolate - I like 70% Cocoa. Over a double boiler, heat 200g of the chocolate to 80 degrees, remove from heat, place remaining 100g of chocolate, stir until incorporated and melted, then return the chocolate to the double boiler and heat to 88 degrees (on your chocolate thermometer). This is a science! It can be tricky. Don't feel too bad, just do your best! ( I just misspelled chocolate 3 times in this sentences - OH MY! Thank you spell check!)
Now, dip each mint piece into the choco. I use a fork and just tap them in and out, then use a toothpick to remove the chocolate from the fork. Place chocolate on parchment to dry - about 2 hours. Remove and YUM!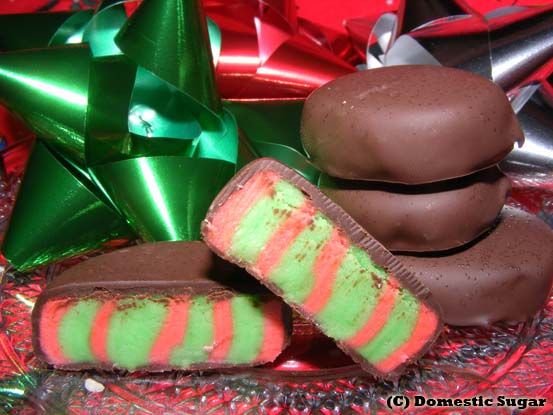 A picture of the chocolate and the insides. The swirl when cut gives this striped look. You can do as many colours as you want!
Marry Christmas! Hope you like this one!
Linking up:
Texas Monkey
,
the Girl Creative