CHANGE OF LOOK! SNOW! We now have some 4 feet of it... it's so much snow!

It's Christmas Baking time... that takes a lot of work. It's difficult coming up with so many beautiful desserts to make a fun tray. And each year, I make about 30 trays of goodies to give out. One of my fall back desserts is the sugar cookie. They were my first love and continue to be a big hit among co-workers. For my baking trays, I wanted to include some decorated sugar cookies, but did not have time to make some 100+ cookies that were decorated (I usually include about 7 types of baking and had about 3 days to make it all).
Snowflake Cookies are a great alternate 'pretty' choice. You can do a lot with a small design. I made each snowflake different. After piping on a few lines, the cookies looked fab. I choose light-blue. Then, some silver or white non-perils, and some sanding sugar and, voilà! Instant beauty!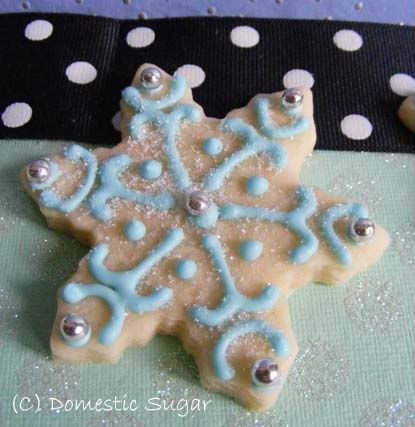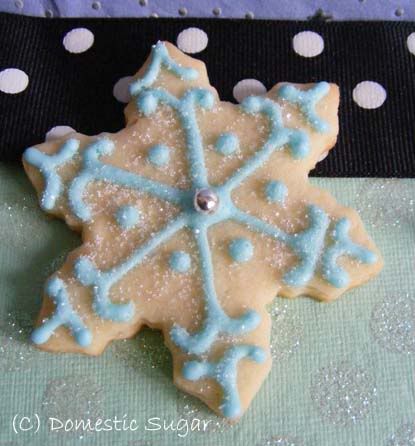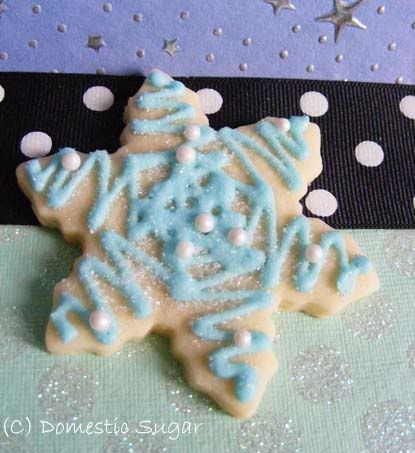 I like the idea of having at least one shiny choice. Not surprisingly, these and the
Chocolate mints
were the top choices, followed by the
Caramel Butter Bars
. I'll have to show you the set-up a little later on. In the meantime, enjoy your holiday baking!