A friend of mine recently ordered a set of Red Velvet cupcakes for Easter. So in between making a turkey for the in-laws, I produced these dreamy, creamy, soft and fluffy delights.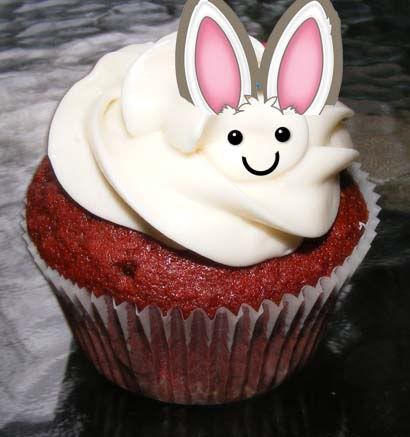 I LOVE Red Velvet. Someone once asked what they taste like, I said "Soft Chocolate." The idea is that they are chocolate cupcakes (in essence, since they have cocoa in them), but the intention is to not have A LOT of chocolate. To make the perfect Red Velvet cake/cupcake, you need only a little cocoa, two TBSP or so. The chocolate is more of an afterthought, or a compliment to the taste. RV Cuppies are also fluffier than the average cupcake.
Anyway, I thought I'd share my favorite recipe. It is not hard, and works like a charm. So that you too can open wide the delicious red cuppie which has gripped North America.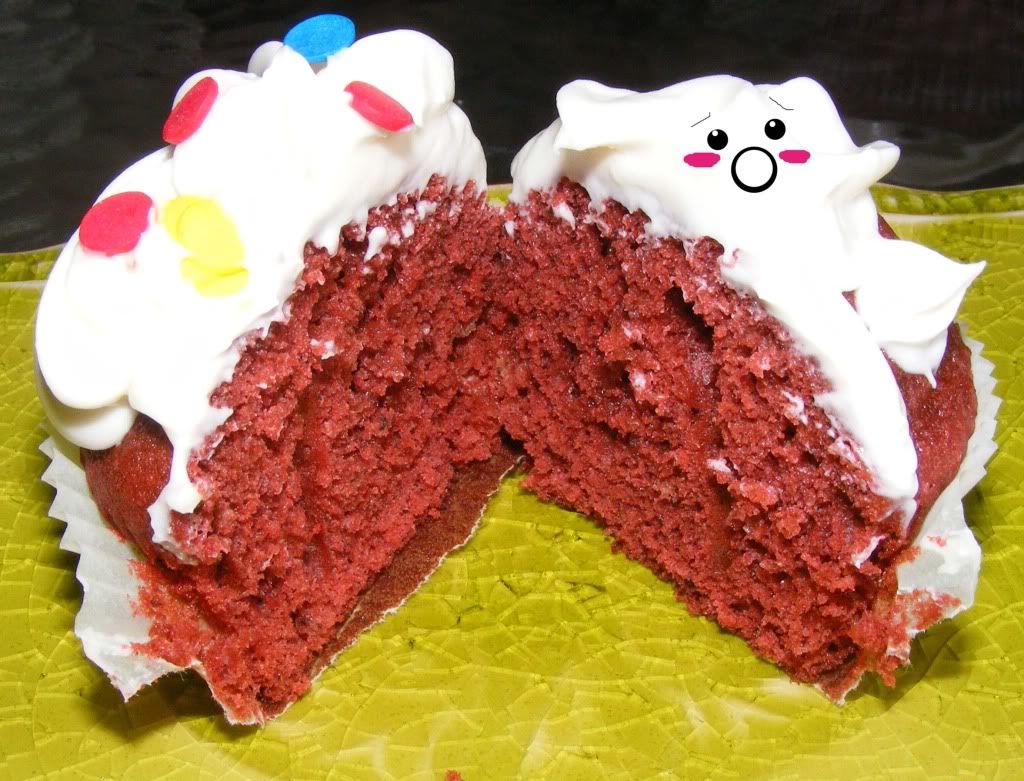 Red Velvet Cupcakes and Cream Cheese Icing.
Ingredients:
1/2 cup butter
1 1/2 cup sugar
2 eggs
1 c buttermilk
1 tsp salt
1 tbsp vinegar
1 1/2 tsp baking soda
2 tbsp cocoa (Dutch Process)
1 oz (liquid)/ 1/2 tsp (gel) red food colouring
1 tbsp vanilla (pure)
2 c flour
Directions:
1. Preheat oven to 350 degrees.
2. Cream butter and sugar. Mix dry ingredients (cocoa, salt, flour). Add eggs, baking soda, vinegar.
3. Mix in Vanilla, colour. Mix on low.
4. Alternately add dry ingredients and Buttermilk until JUST MIXED. (Do not over mix).
5. Put into cuppies cups (3/4 filled). Bake for 20-25 minutes). Let cool before icing.
Makes 12-16 cupcakes.
Cream Cheese Icing:
1 pkg cream cheese (softened)
1/4 cup butter (softened)
2 tbsp sour cream
2 tsp vanilla
1-1.5 cups Powdered sugar.
Cream cheese and butter. Add vanilla and sour cream. Mix in Powered sugar. Blend until smooth. Load piping bag, ENJOY!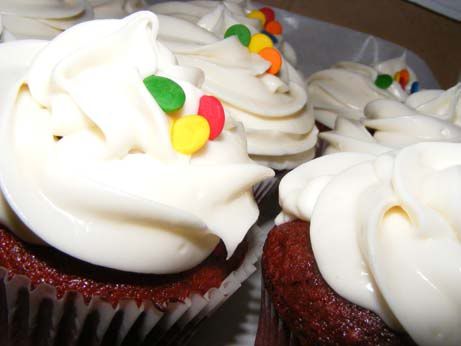 One not of caution. These are addictive! Enjoy them Marla!